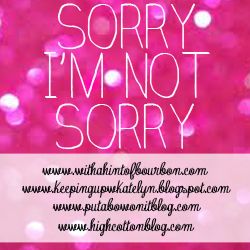 You know what guys, I love link ups so much that I'm posting twice today, sorry not sorry.
...but I really don't like bubble necklaces.
...I like my dog more than most humans.
Look at that face, who wouldn't?
...I'm that person with my music way too loud. More than likely one of
these
songs.
...I don't have a mouth filter.
...I don't paint my toes, but probably my fingernails way to frequently.
...I go sans bra in public.
...I will correct you if you're wrong.
...I know more about baseball/football than my boyfriend.
...Chelsea Handler is my role model.
...I eat peanut butter off of a spoon and drink from the carton.
...I am the fan in the stands yelling shamelessly at the umps/refs/opposite team.
...I'd rather drink wine than water.
...I've gone to a second movie after buying only the ticket for the first.
...I quote Mean Girls on the reg.
...I don't wear pink. Not even on Wednesdays.
...I say things like obvi, adorbs, noms, gorg, and on the reg.
...Derek and I don't use pet names on a day to day basis.
...I am that girl when I drink to much.
...I don't plan my blog posts.
...that I have been counting down the days 'till the Duck Dynasty tonight. How 'bout it, Jack?
SORRY 'BOUT IT.