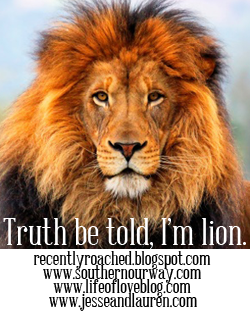 Linking up with
Alexa
today for "Two Truths and a Lie." Remember playing that game at cheer camp (any camp, really) or on the first day of school? It seems I could never come up with anything fun or cool and that's still probably the case but oh well, right? So here we go:
I spend most nights playing Call of Duty, Zombie style.
I have never done a keg-stand.
I have owned a three-legged dog.
------------------------------------------------------------------
I worked off and on at a motocross track.
I've been out of the country twice.
I could live off chocolate.

------------------------------------------------------------------

I look more like my dad than my mom.

I have pet a live grizzly bear.

I was a tri-county all star volleyball player in high school.
Okay, spur of the moment I decided to do more than one, just because its so much fun... so there are actually six truths and three lies, but I separated them (only one lie per section). I was wanting to do a separate post for the reveal but then I realized it wouldn't be part of the link up and that made me sad. So scroll down if ya wanna hear me fess up.

-
-
-
-
-
-
-
-
-
-
-
-
-
-
-
-
-
-
-
-
-
-
-
-
-
-
-
-
-
-
-
-
-
-
-
-
-
-
-
-
-
-
-
-
-
-
-
-
-
-
-
-
-
-
-
-
-
-
LIE #1
I have never done a keg stand.
I've done one. At a wedding. Classy, I know.
LIE #2
I could live off chocolate.
I don't like the stuff. Yeah, love me some reeces but I usually pick the chocolaty edges off and focus on the peanut butter filling.
LIE #3
I look more like my dad than my mom.
Anyone that has ever seen a picture of my mom knows, I'm the spitting image of her. The only thing I got from my Dad are my calves and my stubbornness.
Told ya.
TRUTHS
1. I love me some COD, especially killin' zombies with my boo thang.
2. My parents actually got Gretchen (our dog) before I was born, and with all four legs. But after a tragic accident they had to amputate one of her hind legs. Mom says she could still run like the wind and even used the one back leg as a rudder when swimming.
3. I worked at a motocross track one of my friends owned as a "Thirty-Second Girl."
Goofing off at the mx track
4. I have been to Mexico (on a cruise) and to Honduras (on a surgical mission trip) and both trips were aaaahhhmazing.
Getting my pina colada on at the Hard Rock in Cozumel.
Some ruins and the beach in Mexico.
Assisting on a gallbladder removal in Honduras.
Horseback riding through the mountains in Copán, Honduras.
5. I got to pet a Grizzly named "Pooh" at McLellands Critter's, one of the smallest zoo's I've ever been to but also the best.
Isn't he just the cutest thang?
6. Yes, little ole 5'6" me was chosen to play on a tri county all star team in Pensacola, FL when I was 17.
So now that you know some more useless facts about me, how about you head on over and link up as well so I can know some about you!