Well y'all, sorry to say that this week was a pretty mild one. Only two selfies, a few manis, and not much else.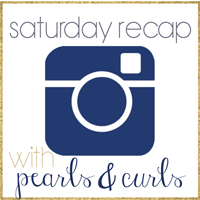 I started off the week with a purple-y manicure.
The next day, decided to take it off but was too distracted by Justified to put a new color on. So I went all day Wednesday with this new look. Whoops.
Finally Thursday morning I couldn't decide on a color so I just put some sparkles on. Glitter is always the answer (even though I'll need a blow torch and butter knife to get it off).
Selfies while getting ready are always fun. Decided to go al natural for the day.
Ice cream for dinner is okay, right? Right, especially since it was a gift. It would have been rude to turn it down.
Stank face cause traffic be stanky. At 2 pm. Who knows why?
(Don't worry mom, I was at a red light)
I think this is the 7th E.H. novel I've read. Just as good as all the others.
That's all I've got folks, now I'm off to earn some money. Happy Weekend! TTFN