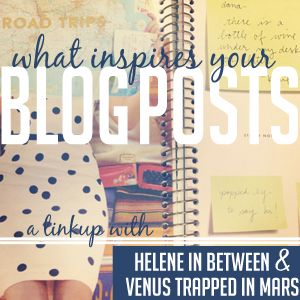 What inspires me to blog?
Honestly, I couldn't give you just one answer. There's no
one thing
that inspires me, such as a song or place or idea. Mainly I get my blog ideas while I'm drifting off to sleep, or while I'm
at the gym
or doing some grocery shopping or
sitting in a bathroom
. I never know when my next big idea will hit me.
Sometimes I get ideas and then forget about them and then I'm really aggravated with myself until I finally remember again (usually as I'm falling asleep) just to start the whole process over again. I have several "posts" in my draft categories that are really just a sentence, from when an idea struck. I usually come back to these and finish out the post when I can't think of anything else.
When I'm having a really hard time figuring out what to write, I just start typing random
thoughts
,
lists
, or
letters to people
. Sometimes I'll reference the
Twitter
and write about a trending topic. I've seen other bloggers tweet, asking for some subject matter, and those posts usually turn out pretty humorous. (Maybe I should try?) Sometimes I just browse
Pinterest
until an idea sparks. If nothing else, I can
plan my nonexistent wedding
look at funny pictures of cats.
Sometimes I like to go to Starbucks after the gym when I don't have to go to work, it's usually to do homework/projects for school, but I find that any place where I'm "alone" (I don't have anyone to distract me) is a good place for me to get some blogging done. If nothing else, I can just people watch and write about that.
Sometimes I find really old pictures on my phone and just want to share them because I miss my lil girl so bad. Also because, how freaking cute is she?
What I guess I'm really saying here is that I'm inspired by life in general. I love to write about issues floating around in my head or just my observations on a certain topic. I don't classify myself as a certain "type" of blogger. I write for YOU, my wonderful readers, in hopes that I can make you laugh, shed some light, or at least find someone out there sitting behind their computer screen saying "Yep, me to."